Las Chispas
The Las Chispas property is located approximately 180 kilometres northeast of Hermosillo, Sonora, Mexico. The community of Arizpe (estimated population 2,000) is located approximately 11 kilometres to the north of the property. The property consists of 21 concessions totalling 1377.50 hectares.
History
In 1640, rich silver veins where discovered near Arizpe by soldiers under the command of Pedro de Perra. The property did not receive any notable exploration or production until the late 1800s. From 1880 to 1930, several mines on the property had intermittent production. From public information, approximately 100 million ounces of silver and 200,000 ounces of gold were cumulatively produced from the property. Since 1930, no significant work has been completed on the property.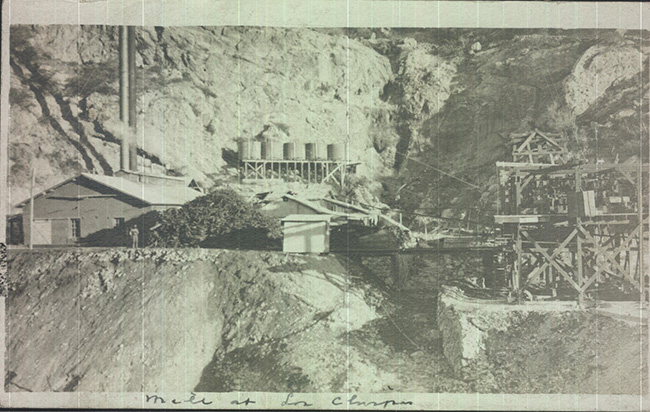 During the early 1980s, a local Mexican company reprocessed old waste and tailings dumps from Las Chispas. Processing was by vat leaching with no production records available.
Geology
Geologically, the Las Chispas property consists of a Late Cretaceous – Early Tertiary low sulfidation epithermal system. Host rocks are volcanic tuffs, rhyolites, agglomerates and rhyolite breccias. Andesite dykes are noted in underground workings sub-parallel to mineralized structures.
The Las Chispas Mine is known for its world-class silver mineral specimens including polybasite, stephanite, native silver and pyrargyrite. Specimens are on display in private collections and museums worldwide.
Historical Production
Mineralization occurs in 0.5 to 5 metre wide veins with adjacent stockwork and breccias trending northwest- southeast for 1 to 1.5 kilometres. Depth from surface of known mineralization is estimated at 300 metres. Main veins dip 55 to 85 degrees to the southwest. Fourteen epithermal veins have been previously defined on the property of which 3 have had notable production. The historical producing veins included Las Chispas, William Tell, and Babicanora. From public information, the Las Chispas mill production between 1908 through 1911 was approximately 25,000 tonnes grading 35 gpt gold and 4,500 gpt silver totalling an estimated 25,000 ounces of gold and 3.2 million ounces of silver. Several kilometres of underground workings exist on the property and are partially accessible.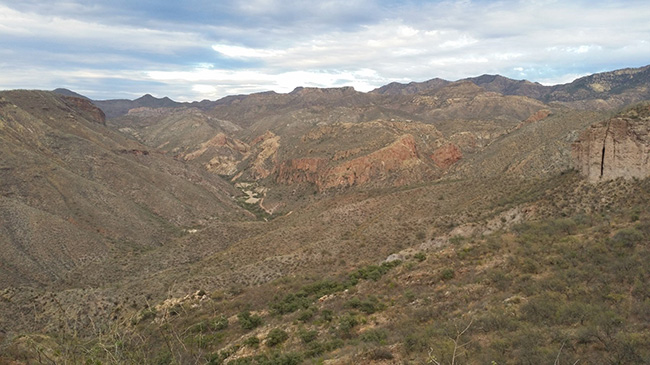 Current Work Program
Phase II Exploration Program
SilverCrest´s current underground and surface drill programs are focused on four of the 19 veins identified at Las Chispas; the Las Chispas, William Tell, Babicanora and Varela veins. In early March, the Company has completed approximately 50% of the Phase II drilling campaign, having drilled 20 core holes for a total of about 4,500 metres. Surface drilling started at the northern extension of the Las Chispas and William Tell veins to further expand and grid drill for resource estimation. Underground drilling of six holes at the Babicanora Vein has been completed. All holes have intercepted epithermal quartz veining, stockwork veinlets, breccia and/or shears trending NW to SE.
A positive observation is that much of the mineralization in the drill-tested area is still intact. Initial drill hole results at the Babicanora vein suggests high-grade mineralization and a continuous, well-defined mineralized vein and structure that averages over four metres in true thickness.
The most significant results from recently announced assays, is a true thickness intercept in Hole UB17-05 of 6.1 metres grading 4.84 grams per tonne ("gpt") gold and 383 gpt silver, or 746 gpt silver equivalent ("AgEq"; based on a ratio of 75 (Ag):1 (Au) and 100% metallurgical recovery) including 0.6 metres grading 2,907 gpt AgEq. Also noteworthy is a 5.0 metre intercept grading a weighted average 3.91 gpt gold and 182.5 gpt silver, or 476 gpt AgEq in Hole LC17-04. For more details, please refer to the table under "Assays" and news release, dated March 02, 2017. Underground access to the Babicanora vein is via a 230-metre long 4 by 4 metre horizontal adit, which was driven by a French company during the 1860s.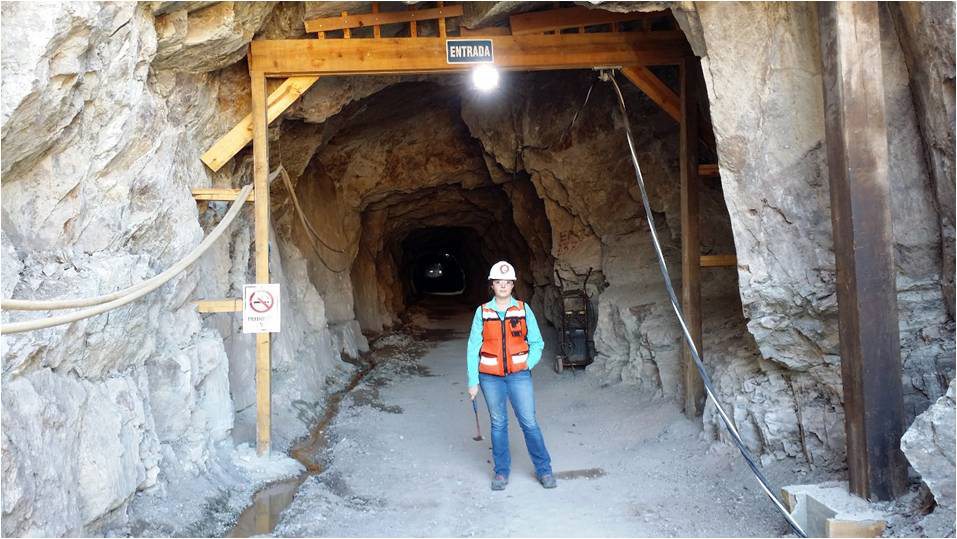 Furthermore, at least six historic underground mining chutes remain intact on the adit level and are filled with undetermined amounts of mineralized material. The Company has removed, sampled and stockpiled approximately 800 tonnes of this mineralized material.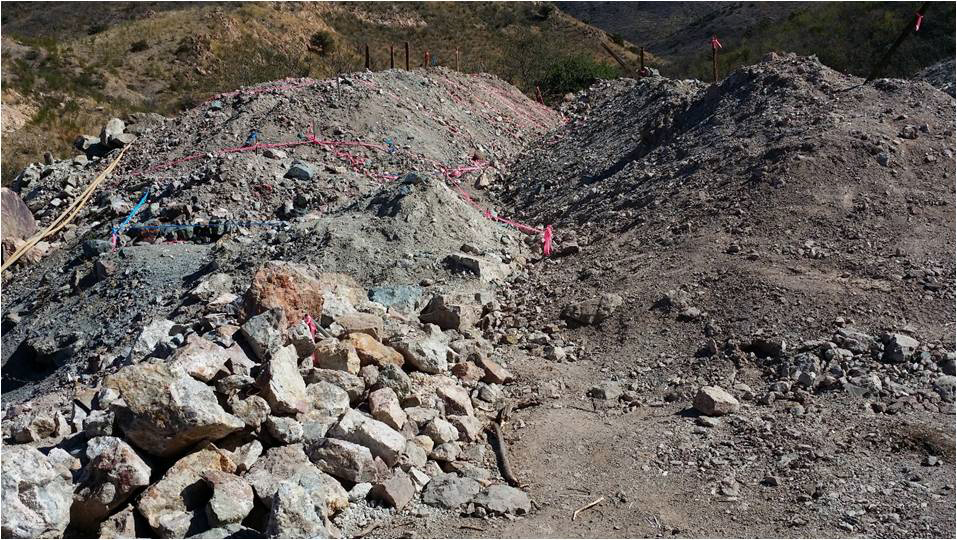 Drill results also suggest low grade precious metal mineralization in the hangingwall of the Babicanora vein. As part of the Phase II drilling campaign, the near surface projection of this mineralization will be explored in Q2, 2017 to test a potential near-surface bulk tonnage target. Therefore it´s the Company´s intention to mobilize additional drill rigs to the Las Chispas property in late Q1, 2017, including a man-portable drill for Las Chispas and William Tell underground drilling.
As previously reported, the underground drill program will also focus on the delineation of a large bulk sample. A bulk sample is a large sample, in many cases hundreds or thousands of tonnes, and is generally a composite of material from development drifts and raises. It is also used to define metallurgical characteristics. With continued success, the Company expects to begin with its bulk sample in late 2017. Arrangements for processing the bulk sample off site are required.
Underground Rehabilitation Update
| | | |
| --- | --- | --- |
| Click to enlarge | Click to enlarge | Click to enlarge |
To date, the Company has accessed approximately 9.5 kilometres of underground workings, with an additional 2 kilometres to be explored over the next several months. As SilverCrest rehabilitates the underground workings, the Company continues to systemically collect samples at intervals of two to three metres along strike lengths of veins. The Company recently collected a total of 72 samples on the Las Chispas 550 level from 120 metres of underground access as reported below. Of the 72 samples tested, 43 were mineralized samples with 19 used for true thickness assay composites stated below. The remaining samples were of hangingwall and footwall material. Sampling locations and widths are restricted to historic workings which may only represent part of the mineralized vein, stockwork, or breccia. The Company has previously drilled three holes in this area, intercepting high grade mineralization with true thicknesses from 1.0 to 7.2 metres. Further surface and underground drilling is planned as part of the Phase II program.
N. Eric Fier, CPG, P.Eng., President and Chief Executive Officer of the Company, is the Qualified Person under National Instrument 43-101, Standards of Disclosure for Mineral Projects, responsible for the preparation of the technical information included in this website and for supervision of field activities related to the Company projects.